Ensuring that Texas veterans have fair and equitable access to the justice system
Named in honor of Texas attorney Joe Jamail, a legend among the legal community and well-known for his philanthropic efforts, the Joe Jamail Endowment for Veteran Legal Services ensures that Texas veterans have access to the free legal help they need to successfully integrate back into civilian life and secure the rights and benefits for which they risked their lives.
Texas has the second-highest population of veterans in the nation. According to the Department of Veterans Affairs, legal issues account for five of the top 10 unmet needs of homeless veterans. Obtaining access to free legal services can be critical for veterans to get the benefits and support they need for themselves and their families.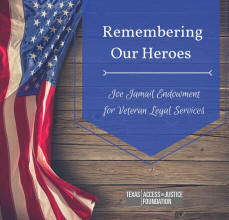 Remembering Our Heroes
The Foundation announced the "Remembering Our Heroes" campaign that allows individuals to make donations to the endowment in the name of a veteran, living or deceased, or active servicemember. With your gift, you are invited to submit a photo of your veteran, who will be honored through a series of events leaduing up to and surrounding Veterans Day.
The Foundation has several activities planned throughout November to honor these veterans, including: using the photos of veterans in an online album consisting of other veterans honored through this effort, and in various venues leading up to Veterans Day, including at the annual luncheon with the Supreme Court of Texas. On Veterans Day, a flag will be flown above the U.S. Capitol and Texas Capitol in honor of all of these veterans. TAJF will send a letter, with your authorization, to the veteran or his/her family letting them know about a donation made in their honor and the flying of the flag in the veteran's honor.
To donate, see below, and please specify the name of your veteran. You may email your photo to: .
The Texas Access to Justice Foundation (TAJF) provides funding to nonprofit organizations throughout the state that provide free legal services to veterans with civil legal problems including the denial of critical medical care, legal issues related to disabilities, family law matters, the denial of benefits and other issues that may arise due to a veteran's absence from home during military service.
The Joe Jamail Endowment for Veterans Legal Services was created by Houston personal injury attorney Richard Mithoff, a protégé of Jamail, to honor Jamail's vision for access to justice for all.
To Donate
To make a donation to the Joe Jamail Endowment for Veteran Legal Services, please download the form, make a check payable to the Texas Access to Justice Foundation, designate the Joe Jamail Endowment for Veteran Legal Services in the memo line, and mail to:
Joe Jamail Endowment for Veteran Legal Services
c/o Texas Access to Justice Foundation
P.O. Box 12886
Austin, Texas 78711-2886
Email address: TxAccessToJustice@teajf.org
Or, to make a secure online donation, click here: